Shuttle from Heathrow to Tilbury Port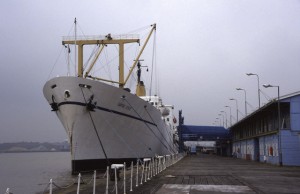 Tilbury Port is located in Essex, England, on the River Thames and it is London's main port. Moreover, it represents a great means for importation of paper, grain and cars. Tilbury Port is also an extremely appreciated touristic location especially for its Cruise Terminal. Passengers can select between UK or European cruises.
If you decide to visit its surroundings, you can choose between several hotels that are situated only a few miles from Tilbury Port. Some examples are: Holiday Inn Exp Dartford Bridge (University Way Kent, Dartford Kent England, DA1 5PA), Bexleyheath Marriott Hotel (1 Broadway, Bexleyheath DA6 7JZ) and Mary Rose Inn Hotel (36 High Street, Orpington, Orpington, BR5 3NJ).
Tilbury Port is rather poor when it comes to local attraction, being chosen usually for the Marco Polo cruise ship. However, if you decide to dedicate a few hours, make sure to visit the Tilbury Fort (Fort Road, Tilbury RM18 7NR, England). It gives you the possibility to see one of the finest 17th-century fortresses.
Feel free to enjoy its original buildings (Guardhouse, Chapel, and Gatehouse) and the Victorian store that is situated underground. You can take advantage of the free audio guide for a more detailed trip. You can also take a break from exploring and have a fresh beverage or a hot coffee indoors or at the outside vintage picnic tables.
Another rather appreciated attraction is a spooky one: Coalhouse Fort, built in the 80's that was meant to protect the English against the French attacks. Nowadays, besides being a very important historical heritage, it is also known for its annually Halloween event and other special days, when groups of professional actors or amateurs and volunteers try to bring shouts of terror and also a joy to the visitors.
For travelers that arrive in London at Heathrow Airport and decide to take a short vacation or a cruise trip from Tilbury Port, there are several means of transport at their disposal. The most important of them are described below:
Rail Transport from Heathrow Airport to Tilbury Port:
For a Heathrow to Tilbury Port Shuttle by rail, you have two options. The first would be to take the train from Heathrow Terminal 1 (that arrives every 15 minutes) via Paddington and West Ham High Level (that comes every 20 minutes). The total duration of the journey would take about 1 hour and 34 minutes. The second option is to take the bus from Heathrow Central Bus Station (every 60 minutes) via St James', Trafalgar and Barking (that arrives every 20 minutes). The journey would take about 2 hours and 58 minutes.
Road Transport from Heathrow Airport to Tilbury Port:
A Heathrow to Tilbury Port Shuttle by car can be done by choosing the M25 highway or the A13 one. London Heathrow Airport is at a 70.1 miles distance from the Tilbury Port.
Taxi from Heathrow Airport to Tilbury Port:
A Shuttle from Heathrow to Tilbury Port with 247 Heathrow Airport Transfer is going to take about 1 hour and 53 minutes, including traffic. The price for a Heathrow Airport to Tilbury Port Shuttle starts from 118 GBP.
Interested in Transfers from Heathrow to Other Cruise Ports? Check below:
– Click here from Heathrow to Southampton Port Taxi Transfer
– Best prices on Heathrow to Portsmouth Harbour Taxi Transfer
– Professional Services for Heathrow to Dover Port Taxi Transfer
– Affordable transfers for Heathrow to Harwich Port Taxi Transfer
– Best value for money Heathrow to Tilbury Port Taxi Transfer