London is preparing for the highly anticipated coronation of King Charles III, an event that will attract many visitors to the city. With its rich history and stunning landmarks, London is the perfect place to be during this momentous occasion. However, travellers should be aware that this event will have a significant impact on transportation and travel in the city.
On Saturday, May 6th, 2023, the crowning of King Charles and Queen Consort Camilla is scheduled to happen at Westminster Abbey in London.
With the grand coronation ceremony complete, Their Majesties King Charles and Queen Consort Camilla will embark on a majestic procession from the breathtaking Westminster Abbey to their regal abode at Buckingham Palace. The journey will take them through Parliament Square, Whitehall, and The Mall, where they will be greeted with a splendid royal salute from the valiant British and Commonwealth Armed Forces.
This momentous occasion is set to mark history, coming seventy years after the remarkable coronation of Queen Elizabeth II in 1953.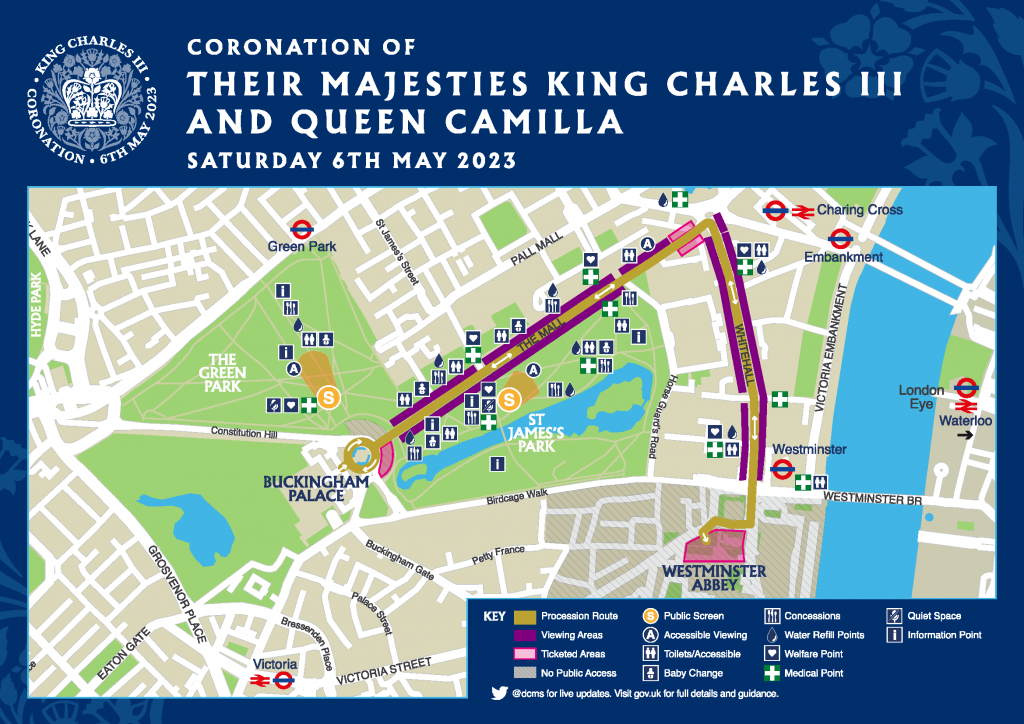 Travelling during the coronation weekend
TfL has informed us of upcoming road closures and alterations to certain bus services in the heart of London. In light of this, it is advisable to steer clear of central London during your travels, as you may experience delays or encounter more crowds than usual.
To access maps for walking and cycling, you can visit the website of TfL (Transport for London).
Transport for London (TfL) predicts that the services will be swarming with eager travellers, making the tube the most favourable option for getting around on this momentous day, especially considering the multitude of road closures.
The closest London Underground stations to the procession route are Green Park on the Piccadilly, Victoria and Jubilee lines; St James' Park on the District and Circle lines; Westminster on the Circle, District and Jubilee lines; and Charing Cross on the Bakerloo and Northern lines, so be sure to plan accordingly.
Anticipating the rush, TfL advises that those seeking to view the coronation procession consider using a station slightly further away and walking to their desired location. For instance, if you are hoping to catch a glimpse from Hyde Park, Paddington Station is merely a 15-minute walk away.
In case you're planning to journey from overseas to witness the grand Coronation event, it's crucial to keep yourself informed of any potential flight delays, disturbances or cancellations that may arise during that weekend. Strikes by security staff at Heathrow Airport's Terminal 5 are expected to resume on Thursday 4 May. Around 1,400 workers will walk out from 4-6, 9-10 and 25-27 May.
From Heathrow Airport, there is the Heathrow Express and Elizabeth line.
To ensure a smooth and hassle-free experience when travelling by private hire taxi, it is advisable to make advance reservations. 247 Heathrow Airport Transfer could offer valuable assistance in arranging this service, at the best prices. Get a quote now – https://www.247heathrowairporttransfer.co.uk/get-price/
How can I watch the coronation concert?
As the clock strikes 8 pm UK time on Sunday, May 7th, an estimated crowd of 10,000 will flock to Windsor Castle's East Lawn for the highly-anticipated Coronation concert. The air will be filled with melodies from music icons like Take That, Katy Perry, and Lionel Richie, all of whom have confirmed their performances at the event.
Unfortunately, the ballot for free tickets has already closed, and you might have missed the chance to witness the extravaganza live in Windsor. But don't lose hope yet! The event will be broadcasted live in the magnificent St James's Park, located right in the heart of London. So, get ready to groove to the beats and enjoy the concert on the big screen!