Heathrow to Dover Port Transfer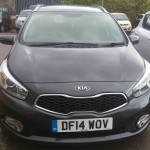 The South-East coast of England is a tenderer zone for any tourist who wants to spend a memorable holiday time. Just pack your stuff, take your family and make your way to the wonderful port- city of Dover and you won't regret it for a moment. Your accommodation town is full of historical landmarks so be sure you have the necessary time to discover all its beauties. Dover city is mainly known as an important ferry port city significantly named as the gateway to England.  For those who didn't know, Dover Port is the oldest and the busiest port in the world by passenger traffic accommodating over 16 million passengers a year.
If you still not have an itinerary in mind here are some interesting places that you can have an eye on in Dover area. The first point of interest is the iconic Dover Castle, a defensive fortress castle from the 12th century which is considered to be the largest castle in England. For your information, a single adult day ticket starts from £18 and the visiting program starts at 10 AM and ends at 18:00 PM from Monday to Sunday. Real historical scenes with costumed characters and medieval furnished chambers will make you feel like you are living at the court of King Henry II. Once you are in the area you can also have a look at St Mary in Castro church situated at the grounds of Dover Castle. The White Cliffs of Dover is another spectacular place that you can't miss during your stay in Dover. Facing the Strait of Dover these old cliffs appeared in many film productions during the time, one of the most important movies wearing their name is The White Cliffs of Dover released in 1944 with Irene Dunne and Alan Marshal. If you want to discover the city's history starting with the Stone Age and finishing with the 20TH century Dover, then Dover Museum is the place that you should pay a visit to. A single adult ticket will cost you £4.20 but the experience is great, so don't hesitate. Situated 3 km west of Dover Samphire Hoe Country Park is another idea for a relaxing day with your family. With more than 110 000 visitors a year this wild nature corner is perfect for those who want cycling, fishing, walking and exploring activities. You can also visit Dover Transport Museum which offers its audience a wide range of interesting cars exhibits. The entrance fee for a single adult ticket is only £6 but what is interesting is that actually, the ticket allows you to revisit free of charge the museum for the next 12 months. For a good lunch or dinner experience, you can try some of the restaurants below that have an extensive line of food specialties for all tastes: Namaste, La Scala, The Archer Public House, The Happy Chef, Il Rustico, Dinos Italian Restaurant, The Waterfront Restaurant at Dover Marina Hotel or Sue's Seafood.
Are you interested in a cheap and decent place for accommodation in Dover? Here is a list of hotels and guesthouses to consider in the area: Longfield Guest House, County Hotel, Alma Caffe Express, Salisbury House, Clare House, St Albans Guest House, Ramada hotel.
For Heathrow airport transfers to Dover Port just remember that 247 Heathrow Airport Transfer is the right choice in terms of low-cost fares and high-quality services. A Heathrow to Dover Port Transfer ride can take around 2 h and 30 minutes and the prices start from £175 for a regular saloon car.