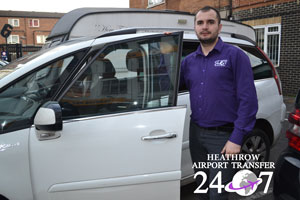 Heathrow to Oxford Circus Station Transfer
If you are looking for a private hire journey from Heathrow airport with a trustworthy minicab company then look no more, you have landed on the right page. 247 Heathrow Airport Transfer is your reliable provider to and from Heathrow airport; with more than five years of experience on the private hire market, the company covers all London postcodes, stations and ports. For example, if you choose a Heathrow to Oxford Circus Station Taxi service, you will receive a cheap quotation and on top of this a vehicle with free Wi-Fi service.
Of course, there is a variety of destinations you can choose in London. Oxford Circus Station is the busiest station in England with more than 98 million entries and exists. Due to its strategic position between Regent Street and Oxford Street, the station is a stop for main tube lines as Bakerloo, Central Line and Victoria line. Our customers choose a Heathrow to Oxford Circus Station Taxi service mainly to reach Oxford Street for the best shopping experience, as you probably know the street is a hub for the most important brands and shops in London, and tourists worldwide are gathering here.
Regent Street is another major Shopping street, famous mostly for its Christmas illuminations. Here you can find some great places such as All Souls Church (a circular church designed by John Nash), Apple Store, Paris Theatre, University of Westminster or Broadcasting House (the headquarters of BBC). Of course, in both Oxford and Regent street, you will find restaurants and even fast foods, coffee shops, and accommodation.
So why should you choose a Heathrow to Oxford Circus Station taxi service? The reason is pretty simple, it is the most comfortable and carefree type of transportation that London can accommodate. This option includes a ride from the airport to your destination in a nice vehicle. With 247 Heathrow Airport Transfer, you will have the possibility of choosing the type of vehicles you desire and we can accommodate passengers up to 8 seats. When choosing our service, you will benefit from the free meet & greet service at the airport and also our professional driver will assist you with a modern and clean vehicle. Regarding the journey, you can always contact our customer service team if you have any inquiries. Of course, our main concern is our customers and for that reason, we have received a 92% customer satisfaction rate.
Traveller tip: Heathrow airport has 5 terminals and the meeting points are all different depending on the terminal you land in. If you have doubts about your meeting point you can always check with one of our operators the exact meeting point where the driver will be waiting for you with a name board.