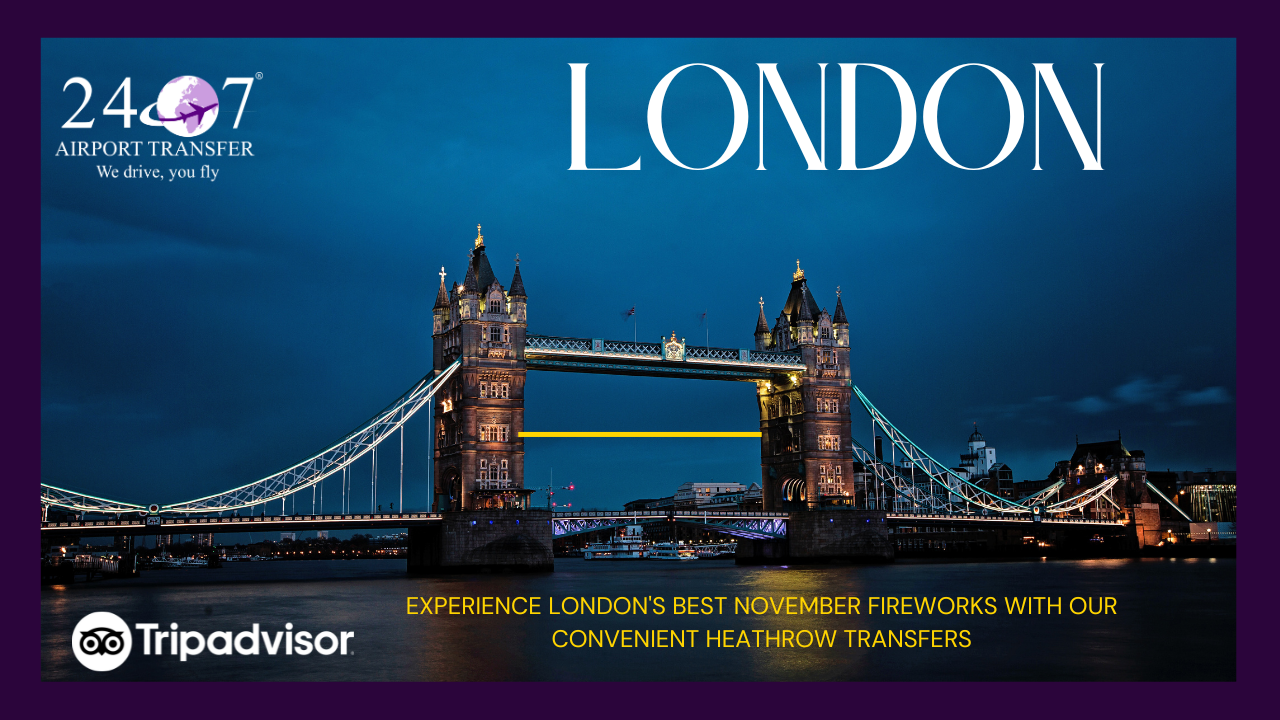 As the November skies darken and the nights draw in, London prepares to dazzle with an array of spectacular firework displays. For those touching down at Heathrow, the city offers a sparkling selection of events that promise to light up your autumn evenings. Here's our roundup of the top 5 firework displays within a cab ride from Heathrow Airport.
1. The Royal Bonanza at Richmond Park
A mere 30-minute drive from Heathrow lies Richmond Park, where the Royal Bonanza fireworks display is set against the backdrop of historical grandeur. This year's theme celebrates British heritage with a pyrotechnic show synchronized to a soundtrack of classic UK hits. Come for the fireworks and stay for the fairground rides, traditional bonfire, and a taste of Britain's finest autumnal treats.
2. The Thames Spectacular
Venture a little further into the heart of the city, and you'll find the Thames Spectacular. It's more than just a firework display; it's a festival of light on the river that London calls its own. With reflections shimmering over the water, the display offers a unique visual treat. Enjoy the show from the riverside or book a river cruise for an unobstructed view of the cascading colors.
3. Battersea Park Extravaganza
Southwest of the city centre and easily accessible from Heathrow is Battersea Park, where an Extravaganza of fireworks awaits. The park is transformed into a wonderland with a bonfire that warms the crowd and a firework display that captivates. This year includes a laser light show that adds a modern twist to the traditional November celebration.
4. The Alexandra Palace Firework Festival
North London's Alexandra Palace hosts a firework festival that's worth the journey. Known as 'Ally Pally,' this event combines a stunning panoramic view of London with a night of entertainment including a German beer festival, street food, and live music. The fireworks here are a choreographed masterpiece that illuminates the skyline, visible from many points in the city.
5. The Wembley Park Display
Closer to Heathrow, Wembley Park offers an extravagant display that rivals any city centre show. With Wembley Stadium as its backdrop, the park's firework display boasts a lively atmosphere complete with live performances and an array of international cuisine from the food stalls dotting the venue.
These firework displays are not just about the sparkling lights; they're about the experiences wrapped around them. Each venue offers something beyond the fireworks – whether it's a taste of local food, live entertainment, or a chance to participate in historical traditions. For Heathrow travellers, these events are a cab ride away into the heart of British celebration. So, wrap up warm, step out of your minicab, and look up to the skies for a display of pyrotechnic artistry that promises to make your November visit to London unforgettable.
Remember, to ensure you don't miss these spectacular events, 247 Heathrow Airport Transfer offers timely and comfortable rides to each of these destinations. Book your ride in advance and make sure your London nights are lit up with the best firework displays the city has to offer.