With a population of almost 10.000 people, London is a well-developed metropolis, the capital of a rich and historical country. You would think that such a city is filled with urban attractions and that the natural and green places are not so common and they are not a part of a touristic tour in London.
However, even if you live in the city or you are just visiting, if you want to lose yourself in a quiet and nice green place, we recommend you to take a tour in Hackney, near Hoxton station, where, at the corner of Pearson and Appleby Streets you can find a unique place: St. Mary Secret Garden.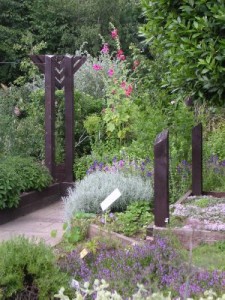 You will be impressed by this open access community garden that aims to bring well-being through gardening, natural woodland and basically a friendly green-fingered team.
If you want to get involved, you can join the community of gardeners and be a part of this amazing volunteer project that started over 15 years ago. In case you are not convinced yet, you can sign up for a gardening course, or you can participate in one of many planting workshops, festivals and events.
St. Mary Secret Garden was called many times the Wish You Well' garden because it was created for and by people with experience of mental health distress. Its success was so great that now it started to be viewed as a promising tourism attraction. The unique area maintained its role as a therapeutic garden. The project's community that is continuously growing is welcoming people with mental health issues, learning and physical disabilities and terminal illness, and gives them the opportunity to help and maintain the site.
Also, St. Mary Secret Garden has many areas designed for relaxing, that will certainly make you forget for a while that you are in the center of busy London, just minutes away from the creeping traffic. You will also have the opportunity to follow the mini-beast trail with the children or attend the events and festivals that are organized within the garden's perimeter.
The garden was named after a church that was located nearby and was destroyed in the Second World War. After 15 years of existence, it now has 4 areas of interest: a natural woodland, a food growing area (including fruit trees and vegetable beds), sensory and herb garden and a large area of herbaceous borders.
Because its secrets and its potential are yet to be discovered, St Mary Garden is still a secret garden. You can visit it anytime from Monday to Friday, between 9:00 AM and 17:00 PM.
247 Airport Transfer can offer you a transfer from London's airports to St Mary Secret Garden, 50 Pearson Street, London, E2 8EL, anytime. The price from Heathrow Airport is 61 GBP for a saloon car.
Are you in search of transport to or from Heathrow Airport? Here's what we can offer:
– Best value for money Heathrow Transfers
– Professional Heathrow Taxi services
– Heathrow shuttle services for low fares